Lubricants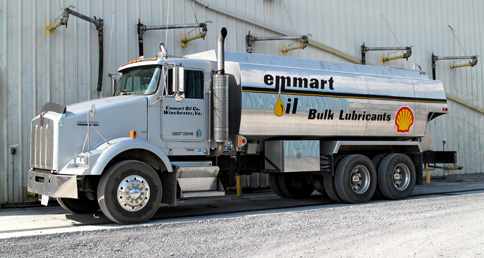 Emmart Oil is a full-service supplier of petroleum products, offering a complete line of lubricating oil and greases in both bulk and packaged containers. We provide the highest quality Lubricants Products available in the industry, which maximizes equipment life and reduces overall maintenance cost. We can provide the specified brand of products required to meet engine manufacturer's warranties; Specialized Lubricant Products, Lubricant Support Services and Marine Lubricants. Distributor Product Quality Assurance (DPQA) certified full line distributor of Shell lubricants. Bulk or packaged, delivered or picked up at our bulk plant locations.
Whether utilized alone or in partnership with Emmart's Commercial Fuels, we have the commitment and quality of people, products and programs that will save your company time or money.
It is the objective of Emmart Oil's Commercial Lubricants Division to recommend, competitively price, and supply products that will exceed our customers' needs and expectations, therefore saving overall maintenance dollars and extending the life of critical equipment.