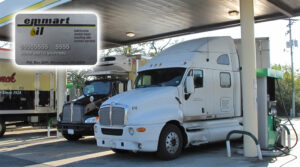 The Emmart Oil Company (EOCO) proprietary fleet fueling card system is used
at our Eleven (11) convenient locations listed below.
EASY TO USE
Emmart's fleet card is as simple and easy to use as a credit card, but safer!
MAXIMUM SECURITY
Our fleet card has many options to identify misuse and fraud.
NO MONTHLY OR ANNUAL FEES
No hidden costs, just more value.
EASY TO READ MONTHLY REPORTS
Each month you will receive a customized report that provides you with the information you want and need.
MONTHLY & WEEKLY TERMS
Pay for all your fuel needs with one invoice. No more petty cash receipts.
AVAILABLE 24 HOURS A DAY 365 DAYS A YEAR
With convenient locations in Winchester, Front Royal, New Market and Luray.
Call us Today at 540-662-3835 OR 1-800-421-3835
and Stop Burning Your Money!!
Serving you with 11 convenient location, some *Open 24/7 and *Selling Clear Kerosene
* Bo's Xpress
3612 Valley Pike
Winchester, Virginia
** Bo's Xpress
925 East Main Street
Luray, Virginia
State Line Store
1778 Bloomery Pike
Whitacre, Virginia
**Bo's Xpress
1217 Berryville Avenue
Winchester, Virginia
*Bo's Xpress
163 Old Cross Road
New Market, Virginia
*Highway Motors
Tyson Drive
Winchester, Virginia
Unmanned card lock location selling diesel fuel only
** Bo's Xpress
202 East Cork Street
Winchester, Virginia
Roy's Xpress
239 North Royal Avenue
Front Royal, Virginia
*Emmart Oil Company
745 Smithfield Avenue
Winchester, Virginia
Unmanned card lock location selling diesel fuel only
** Bo's Xpress
60 Stoney Creek Road
Edinburg, Virginia
*Round Hill Shopping Center
2578 Northwestern Pike
Winchester, Virginia